Ensuring maximum adherence to specs and minimum waste. Between our warehouse and your jobsite, it's just a quick stop by the shop to prep your order to arrive exactly as specified. Contact us.
Can shear up to .500″ steel, .375 stainless and .750 alum
Our in-house waterjet uses 60,000 PSI to cut virtually anything 6 inches thick.  Do you have a special material requirement that can only be cut using water, let us know how we can help?  The final product left by using water and abrasive to cut is almost a finish product.  With tolerances of +/- .005" there is a good chance that the job is done once we are done!  If you have an idea, the waterjet is the tool to make your metal solutions made easy! Contact us.
Any bending requirement is made easy with our in-house press brake.  Our brake has capacities to bend up to .500" thick of steel.  With a bed length of 12 feet it makes all your bending metal solutions made easy! Contact us.
Our ironworker is capable of punching 1.125" hole in 1.250" thick steel. We put holes in virtually any shape of material.  Come in and speak with one of our specialists or send a drawing and pick it up within an hour!! Contact us.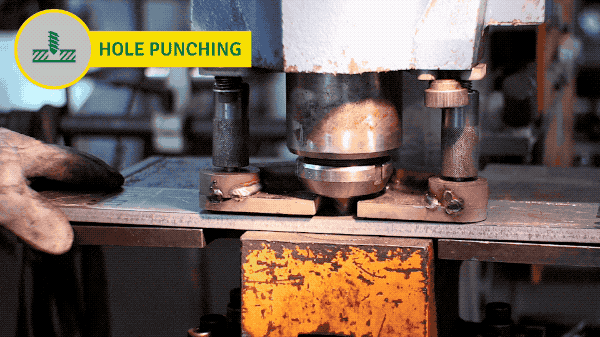 Projects come in all shapes and sizes. So we service projects of all shapes and sizes. Whether your project requires simple metal solutions or large intricate metal solutions, we offer services scaled to your job. Just get in touch with details and we'll get started on making your metal solutions made easy! Contact us.
Our extensive inventory of automatic band saws can production cut as large as 20" x 20"!!  Shearing is made easy with one of our guillotine shears that have the capacity to cut .010" – .750" thick at lengths of 12 feet!!  Profile cutting can be easily done on our in-house waterjet!!  Do you have special material that cannot be cut with flame or electricity, try the waterjet!!
Rather than ordering bulk and cutting it yourself, just share your specs and let our knowledgeable team and one of our four automated production saws do the rest. Contact us.
Sometimes you do need to find the needle in the haystack. Part of our commitment to maintaining our position as an inventory leader in your metal solutions means that even our connections have connections. If you are looking for specific items that might be a little off the beaten track, just let us know. We have ways of making them stock. Contact us.
Because of competitive pricing, attention to service and one million dollars of inventory it's the reason why 30,000 businesses choose Metals Plus as their metal solution supplier. With nearly 27,000 sq/ft of warehouse space devoted to inventory we are happy to have you come and browse.  We will have everything you need! Contact us.
Over 2000 items in stock and growing
One million dollars in inventory
Come and browse through our 27,000 sq/ft warehouse
30,000 businesses choose Metals Plus as their metal solution supplier.  At Metals Plus you can bring your requirement that needs small to medium fabrication.  We will find the best welder/fabricator to help with your metal solutions made easy!
Metals Plus has a fleet of delivery trucks that service Southern Ontario.  We can bring your metal solution to you!  Smaller orders can be delivered on our pick up or large ones on our 26' flat bed.  We can deliver to your door as quick as 1 hour!! Contact us.